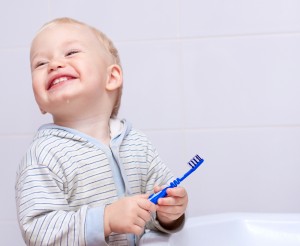 February is National Children's Dental Health Month. Now is the perfect time to start teaching your little one about good dental hygiene practices. For many little kids, the prospect of going to the dentist can be terrifying. There are strangers in sterile white coats, pointy metal tools, and scary sounds. With a few tricks and a little luck, February could be the month that your child gets over his or her dental fears.
Make it fun
Dental hygiene is not the most exciting part of your day. It's a chore that takes up four minutes of your day, and sometimes it can even be a little bit painful and annoying. As parents, it's best to keep that a secret. To really get kids on the right track with dental health, it has to be fun. Pick a time in the morning and evening to brush your teeth with your child. Set the right example by getting excited about it. Create a build-up to it by saying things like "Only ten more minutes until we get to brush our teeth!"
Children love bright colors, crazy patterns, and flavorful tastes. These are all elements that you can work into your dental routine. You can purchase toothbrushes with your little one's favorite characters on them and ones that sing or talk. Mint is a perfect toothpaste flavor for adults, but your children might have fun with fruity flavors or something fun like bubblegum flavor. These clever touches will help get your child on -board with dental hygiene.
Overcoming fears of the dentist
Once you've got your child enjoying their daily tooth-brushing time, you can start working towards eliminating their fear of the dentist's office. It's important for your son or daughter to become familiar with their dentist. If your dentist is a parent-approved familiar face, your child will learn to trust them. Start off by taking your little one to the dentist's office just to stop by. Interact with the staff and give your child an opportunity to talk to his or her dentist. This will help create positive associations with the office.
With Leikin & Baylin Dental Care of Catonsville, you have the added benefit of extremely friendly dentists. Dr. Baylin even has a few impressive magic tricks up his sleeve that will help your child enjoy the visit that much more.
Leiken & Baylin Dental Care of Catonsville
If you have questions about family dental care, or it's just been a while since you've had a cleaning or talked to your dentist, it's time to make an appointment. You can contact Leikin & Baylin Dental Care of Catonsville, Maryland by calling 410-747-1115 or visiting CatonsvilleDentalCare.com.
Disclaimer: The writer of this article is not a medical professional. Information contained herein has been collected from sources believed to be reliable, and every precaution has been taken to ensure its accuracy. The information provided here is for general informational purposes only, and should not be used as a substitute for professional medical care.