Our Dental Office in Catonsville, Baltimore, Maryland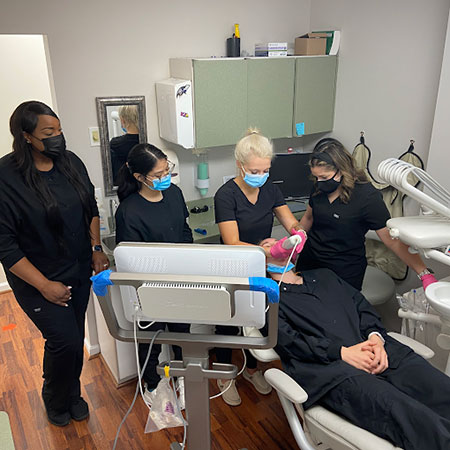 We relocated our dental practice from the Catonsville Professional Center to a brand new, "state-of-the-art" dental facility. In addition to the beautiful décor, this move has given us space to grow and take even better care of our patients. This new office has easy access to Frederick Road, ample parking and is completely handicap accessible. Our "top of the line" sterilization center has taken infection control to the highest level. And with new dental equipment and computers in every room, we make every visit a truly interactive and individualized experience.
Part of that dental experience is enhanced through the use of a multimedia education system. We use an intraoral (inside of the mouth) camera to put pictures of your mouth onto a television screen in your treatment room. These photos give you a view of your mouth you have never seen before. When questions arise about treatment, we have excellent educational programs that provide many answers and quell many concerns. We are always there to offer advice and to be your advocate on the way to dental health. By treating you as a family member, you can always rest assured that you will receive the highest level of dental care available.
In addition to offering unparalleled dental excellence, we will make you feel as comfortable as possible. Going to the dentist can be an anxious experience, but at Catonsville Dental Care, we will ease your worries. We have a library of videos and DVDs to enjoy while in the chair. We even have headphones that virtually eliminate the sound of the drill. We also go the extra mile by providing massage padded chairs that you will love. If you desire a warm blanket, we will be happy to provide you with one. And to top it all off, at the conclusion of your visit, you will be offered a refreshing, hot towel. Beyond these services, if there is anything else that would make your visit more comfortable, we will be happy to oblige.
Come see for yourself what a wonderful dental visit is like at Catonsville Dental Care.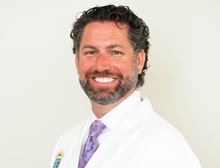 Dr. Scott Baylin
Dr. Scott Baylin takes great pride in being a fixture at Catonsville Dental Care and in the community. For more than 20 years, Dr. Baylin has improved the smiles, health and lives of his patients. A recipient of multiple Best Dentist awards including Baltimore Magazine and The Baltimore Sun, Dr. Baylin provides dental excellence and 5 star service making his patients happy and comfortable. A master of esthetic dentistry with hundreds of hours of continuing education and the experience of thousands of cases have helped Dr. Baylin create the most beautiful and functional smiles possible. Laughter is common in Dr. Baylin's treatment room and he loves catching up with his patients during their semi-annual health maintenance visits. When Dr. Baylin is not in the office, he enjoys long hikes with his wife, kids and dog (Baci), going to Ravens games and concerts and playing mediocre golf.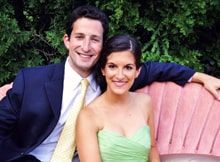 Dr. Scott Eisen
Dr. Eisen is a lifetime resident of the Baltimore area. After receiving his undergraduate degree in neuroscience at Franklin and Marshall College, he attended the University of Maryland Dental School for his Doctorate of Dental Surgery. Dr. Eisen continued his education by completing a General Practice Residency at the Baltimore VA Medical Center, where he received advanced training in restorative and implant dentistry. When not practicing dentistry, Dr. Eisen enjoys the outdoors, traveling, and rooting for the Ravens and Orioles. He is passionate about providing high quality dental care, while creating long lasting relationships with his patients.
Dr. Marshall Strickland
Dr. Strickland graduated from University of Maryland School of Dentistry, completing an elective dental implant clerkship. After graduation, he pursued advanced training in restorative and implant dentistry during a General Practice Residency at the Baltimore VA Medical Center. Dr. Strickland enjoys continuing his education in order to provide his patients with state of the art dental care. During his time at Catonsville Dental Care, he has developed many long-standing relationships with patients in the Catonsville community, helping them achieve their oral healthcare goals. As Dr. Strickland says, Catonsville is a big city suburb with a sweet small town feel. In his free time, Dr. Strickland is an avid sports fan, stemming from his time as a professional basketball player, and loves to talk Ravens with his patients. He enjoys outdoor activities with his wife, Paige, and their three young children, Parker, Lennox, and Mason.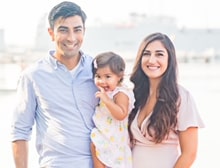 Dr. Arianna Malik
Dr. Malik was born and raised in Maryland, and she was happy to keep things local by completing her Bachelor's degree at the University of Maryland, College Park. She then went to the University of Maryland School of Dentistry in Baltimore where she obtained her Doctorate of Dental Surgery in 2014. Following dental school, she completed a year-long residency program that allowed her to gain even more experience in the areas of dentistry she loves the most, esthetic and restorative dentistry. Dr. Malik's passion for dentistry began at a young age, as she grew up seeing firsthand how her father, who is also a dentist, was able to positively impact his patient's lives by providing quality dental care. She realized that a career in dentistry could not only combine her love of art and working with her hands, but also allow her to help people achieve and maintain excellent oral health. Her goal is to provide her patients with a gentle, compassionate, and comfortable dental experience. At home, Dr. Malik loves spending quality time with her husband, Paul, her daughter, Zara, and newborn son, William.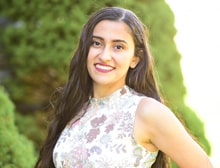 Dr. Faranak Hamedooni
Dr. Hamedooni obtained her bachelor's degree in Biochemistry and Molecular Biology at UMBC. She then went on to complete her Doctorate of Dental Surgery at University of Maryland Baltimore, and completed an optional residency at the Baltimore VA Medical Center where she had the privilege of providing dental care to our veterans. Dr. Hamedooni's advanced training in restorative dentistry, implant dentistry and root canal therapy allows her to provide comprehensive dental care to her patients. Dr. Hamedooni was born in Iran and moved to the US with her parents and older brother. In her free time, she enjoys spending time with her family and boyfriend, her dog, and two cats. When she is not in the office caring for her patients, she enjoys drawing, playing tennis, and finding new pop culture collectibles to add to her growing collection.