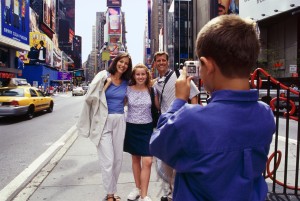 If you're heading out this weekend for a quick trip away from home, you may want to remember a few more things than your rain jacket. Travel is the perfect time to let go of your routine and enjoy the idea of freedom. The open road means hot tub dips, late evenings out, and sweet treats. Go ahead and enjoy yourself, but just remember to stay on top of your oral health.
Lose the Travel Case
When perusing the aisles of your local convenience store for travel items, opt out of the travel case for your toothbrush. It may seem like a great way to keep your brush clean, but the moist environment is actually encouraging bacterial growth. Allow your toothbrush to air dry completely before wrapping it in a cloth or putting it away.
Opt for Carry-On
Are you flying anywhere this weekend? Keep a small tube of toothpaste in a quart-size sealable plastic bag with your toothbrush and floss. Remember that each container can have up to 3.4 ounces of liquid or gel. Carrying your toothbrush on is more advantageous during flight travel as you can brush your teeth flight or in between layovers.
Stick to the Routine
This is perhaps the most important tip—don't stray from your routine! Be sure to brush your teeth at least twice a day and floss daily. Chances are that you'll be enjoying a few treats during your trip. Don't allow for those sugary sweets to have an impact on your smile!
Visit the Dentist Before you Leave
Don't go on a trip with a toothache or jaw pain. Before any sort of travel, you should always make sure that your health is in top condition!
Call Catonsville Dental Care For Frequent Dental Cleanings
Catonsville Dental Care provides high-quality dental services to Catonsville, MD, and the surrounding areas. If you're concerned about your gum health, or any other dental issues, we will be happy to provide you with the service and care that all of our patients have come to expect. We offer dental cleanings, implants, Invisalign, and other dental services as well as routine dental care and corrective treatments. With years of experience and countless testimonials, we're your one-stop offices for all of your dental needs!
Book your appointment through our website today, or gives us a call today at410-747-1115 for your FREE consultation! You can also view the rest of our services and current specials HERE.