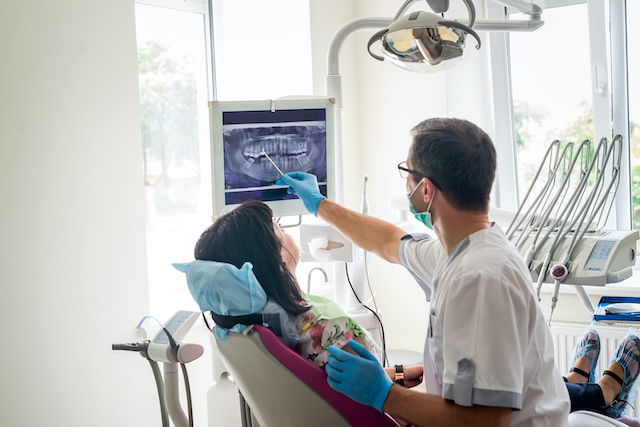 We understand that modern living can get quite hectic sometimes. It can be easy for many people to put off important items, such as taking care of themselves, when life rears its ugly head. One of those things that gets put off a lot is getting dental exams. However, it's important to note that regular dental exams are one of the most important ways to prevent serious dental health issues in the future. There may be many reasons why you would decide to see a dentist for the first time in years – but you shouldn't put it off any longer. Call our office to schedule an appointment today! Here's what to expect on your first trip to see a dentist in years.
Gum Sensitivity
When the hygienist begins flossing your teeth, it's very likely that your gums will be sensitive or even bleed during the process. It may be a little unnerving to some, but this is completely normal, especially if you don't normally floss at home. Bleeding gums can be a sign of periodontal disease, which is why it's so important to see a dentist regularly and practice good dental hygiene. To reduce the chances of bleeding, floss your teeth regularly at home after brushing.
Longer Cleaning Session
If it has been a while since you've seen a dentist, your teeth will likely have a lot of plaque built up and calcified on the surface. Because of this, it's likely that the hygienist will need to spend more time than normal cleaning each tooth individually. This shouldn't be a cause for embarrassment, however – by taking the time to thoroughly clean each tooth and clear off the plaque, you'll be well on your way to better dental health.
X-Rays
X-rays are really important to help a dentist see if there are any underlying issues with your teeth that may not be apparent at a glance. If you have old x-rays on file, this help them compare the state of your mouth between then and now. But it's not a problem if there isn't – your dentist will create a new oral history for you starting with your x-rays from the current appointment. These will help inform future decisions about your oral health.
Catonsville Dental Care is The Best Choice for Your Dental Health
Catonsville Dental Care offers a wide variety of services when it comes to oral health. We have the experience and understanding to diagnose and treat any problem you have as quickly and painlessly as possible. With four dentists available at our office and a commitment to comfort, safety, and relaxation, you can't find a better provider for your health. We look forward to helping you keep your smile perfect all year long and talking with you about your needs. To schedule an appointment or consultation, visit us online or give us a call at 410-747-1115. For more tips and tricks, follow us on Facebook, Flickr, Twitter, and YouTube.