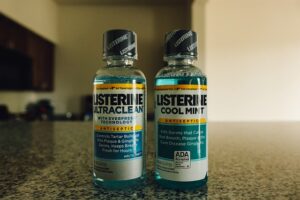 Mouthwash, like floss, is another defense mechanism against oral hygiene issues. Many people are under the misconception that all you have to do is brush your teeth twice a day, and your mouth will be as healthy as it can be. However, it puts you one step closer to preventing many dental health issues when you take extra precautions. Of course, you must brush your teeth twice a day, but you should also floss daily, use mouthwash twice a day, and never miss out on dental exams. Here are the caveats to keep in mind about using mouthwash.
Mouthwash Helps Freshen Your Breath
Fresh breath is the most common reason that people like to use mouthwash. During the pandemic, people have socially distanced themselves for some time. However, you can tell when your breath is not the freshest even while wearing a mask because your breath is entrapped in an enclosed space. Mouthwash gives you fresh breath that even the best toothpaste cannot provide. It also kills all of the bacteria associated with bad breath but leaves your taste buds feeling cool and minty fresh. Plus, you have a variety of flavors available to you.
Plaque Prevention
Various mouthwashes exist that can assist with preventing plaque growth on your gums. However, plaque can also grow in the middle of the teeth or on the surface. So keep in mind that mouthwash can prevent plaque and doesn't get rid of the preexisting plaque. With that in mind, keep brushing your teeth regularly and making your way to dental exams.
Prevents Cavity Growth
Mouthwashes contain a property of fluoride that can prevent your teeth from cavities while making your enamel stronger. Ensure that you check the back label because not all mouthwashes have fluoride in them.
Canker Sore Healing Properties
Canker sores refer to ulcers that form in the mouth. Regularly rinsing your mouth can help get rid of them because they have antibacterial properties.
What to Keep in Mind
While this freshening agent can be helpful, there are some things to keep in mind. For example, everyone knows to brush their teeth twice a day, but some people forget that you have to be gingerly and not overbrush your teeth or store your toothbrush in a way that leads to bacteria.
Understand that mouthwashes can mask underlying issues. For that reason, you always have to check in with your dentist. In addition, it would be best to go for alcohol-free mouthwashes to ensure that you don't rinse away the good bacteria. We also suggest gargling before you brush your teeth to loosen up particles and not to strip away all the hard work that your toothbrush has done. Finally, only children aged six and older should use this freshening agent.
Oral Care from Catonsville Dental Care
Whether you want to whiten your teeth, straighten your teeth, or have a wisdom tooth extracted Catonsville Dental Care offers a wide variety of services when it comes to oral health. We have the experience and understanding to diagnose and treat any problem you have as quickly and painlessly as possible. With four dentists available at our office and commitment to comfort, safety, and relaxation you can't find a better provider for your health. We look forward to helping you keep your smile perfect all year long and talking with you about your needs. To schedule an appointment or consultation, visit us online or give us a call at 410-747-1115. For more tips and tricks follow us on Facebook, Flickr, Twitter,andYouTube.