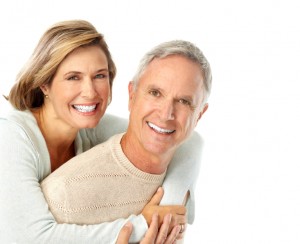 Have you ever met someone who said, "I wish my teeth weren't so white?" We're going to go out on a limb and say that it's probably never been said. Nearly everyone wishes that they had a brighter, whiter smile. It's one of the first things that people notice about you when you walk in a room and one of the things that sticks in their mind after they've met you. Besides having your teeth whitened, there are a few things that you can do at home to keep those pearly whites nice and bright. Check out our list of tips below.
Tips for Whiter Teeth
Remember to Rinse – One thing that people take for granted is rinsing. We advise rinsing your mouth with water after every meal. You should also find a fluoridated mouthwash that you can use once per day to get the spaces that are easy to miss when you're brushing and flossing. It'll help to remove debris, avoid decay, and freshen your breath all at the same time.
Watch your Diet – Did you know that your diet has just as much to do with the health of your teeth as your overall body health? Eating foods that are high in sugar or starch helps create more plaque. That plaque eats away at your teeth and can start removing your white enamel. Eating fruits and vegetables will help keep your teeth and gums healthy, which helps keep your teeth white as well. You should also avoid dark drinks such as coffee and red wine.
 Visit your Dentist – Having your teeth cleaned regularly will help keep them whiter. Brushing and flossing are great for your mouth, but they aren't a fix-all solution. You still need deep cleaning every 6 months to a year to make sure that your mouth is healthy. If the color of your teeth is bothering you, you should also let your dentist or dental hygienist know that at your appointment. They can give you some extra suggestions for keeping your teeth white.
Professional Teeth Whitening
When all else fails, having your teeth professionally whitened will ensure that you have a bright smile. Drs. Leikin and Baylin are proficient in teeth bleaching and teeth whitening procedures. To find out more about how these procedures work and which one will work best for you, contact Leikin & Baylin Dental Care of Catonsville, Maryland by calling 410-747-1115 or visiting CatonsvilleDentalCare.com.
Source: 7 Years Younger
Disclaimer: The writer of this article is not a medical professional. Information contained herein has been collected from sources believed to be reliable, and every precaution has been taken to ensure its accuracy. The information provided here is for general informational purposes only, and should not be used as a substitute for professional medical care.