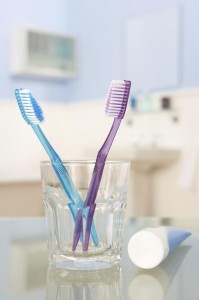 There's no question that the dentist is an important person in helping you to keep your teeth healthy and working properly, but there's a person even more integral to your oral health – you. A healthy mouth and a healthy smile starts at home, not in the dentist's chair. Having a proper oral health care routine that you follow each day will help you to prevent cavities, tooth loss, gingivitis, and even oral cancer. The state of your oral health has also been linked to overall health. Keep this in mind if you ever decide to skip out on brushing your teeth one evening. It's just a couple of minutes to help avoid lifelong problems. First thing's first, though: you need to develop a good routine.
Creating an Oral Health Care Routine
Figure out what your oral health care needs are. Everyone is a little bit different. Nursing mothers have a different routine that they need to follow than your average person, for instance. If you have gingivitis, you may need to pay more attention to flossing and brushing your gum area. The best person to talk to about this is your Catonsville dentist. He or she will be able to tell you if you have any specific needs.
Create a routine with the help of your dentist. Every routine needs to include brushing, flossing, and occasionally rinsing. Using a fluoride rinse can help you rebuild enamel and protect it from harmful plaque. Brushing and flossing will help you keep your teeth and gums clean. Your dentist will tell you how many times per day or week you need to make sure that you're doing each part of your routine.
Use products with fluoride in them. Did you know that most water supplies actually contain a small amount of fluoride? It's not enough to get you by on a day to day basis, but it has helped reduce the prevalence of cavities over the years. Using fluoride products will help you strengthen your teeth and prevent decay. Check to make sure that your toothpaste, floss, and rinse all contain fluoride.
Visit your dentist regularly. You should make a point to have your teeth cleaned and examined by a dentist every 6 months to a year. It will help you make sure that you're on the right track with your oral health care routine and give you the chance to take care of any problems shortly after they appear!
Discussing Oral Health Care with Your Catonsville Dentist
If it's been a while since you've had a cleaning or talked to your dentist about your oral health care routine, it's time to make an appointment. You can contact Leikin & Baylin Dental Care of Catonsville, Maryland by calling 410-747-1115 or visiting CatonsvilleDentalCare.com.
Source: Colgate
Disclaimer: The writer of this article is not a medical professional. Information contained herein has been collected from sources believed to be reliable, and every precaution has been taken to ensure its accuracy. The information provided here is for general informational purposes only, and should not be used as a substitute for professional medical care.