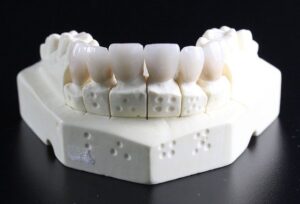 Catonsville Dental Care offers partial and complete aesthetic dentures for anyone living in Columbia, MD. If you have missing teeth, dentures serve as a solution. They are custom-made removable replacements that can also fill in lost tissue. Understandably, teeth that are no longer present can make a person feel self-conscious each time they smile. You can rest assured that Catonsville Dental Care is here to help. We provide restorative dentistry procedures to help you feel confident about your smile again. So, what's the difference between partial and complete aesthetic dentures? Today we will explain.
A Breakdown of Partial Vs. Complete Aesthetic Dentures
If dentures are suitable for you, you can look forward to having custom-made partial or complete dentures after sending your impressions to a lab. It all depends on how many teeth the patient has lost. However, one of our dental specialists will have to determine what type of denture a patient needs. The ideal candidate for dentures is missing teeth in a row but has excellent oral health otherwise. Complete aesthetic dentures will most likely be the right solution for a person missing most teeth along the dental arch. For someone missing only a few teeth, partial dentures typically work best.
Complete dentures' base consists of flesh-colored plastic or acrylic that rests on the gums. The patient should feel comfortable with the dentures because, once again, they are custom-made. You'll have a mold that fits snugly and comfortably. The dentures' upper covers the mouth's roof. If you experience dry mouth, you should let a dentist know because a thin layer of saliva between the denture and gums helps form a seal to anchor the denture. A dry mouth can cause dentures to loosen. Another consideration is that there has to be enough space for the patient's tongue. The horseshoe-shaped lower set stays in place by the cheek and tongue muscles.
A partial denture plate can have one or more prosthetic teeth. A bridge is helpful if a patient has natural solid teeth because it connects the gap between two teeth. Our dental experts can also anchor a false tooth to crowns on either side of the gap. However, if the natural teeth aren't in the best shape, one of our dentists can attach the prosthetic tooth to an implant in the jaw.
Dentures can take some time to get used to, but you can rest assured that they are natural-looking. That's where the word "aesthetic" comes into play. Custom-made dentures are aesthetically pleasing and if you think you may need them, give us a call!
Dental Health Tips from Catonsville Dental Care
Whether you want to whiten your teeth, straighten your teeth, or have a wisdom tooth extracted, Catonsville Dental Care offers a wide variety of services when it comes to oral health. We have the experience and understanding to diagnose and treat any problem you have as quickly and painlessly as possible. With four dentists available at our office and a commitment to comfort, safety, and relaxation, you can't find a better provider for your health. We look forward to helping you keep your smile perfect all year long and talking with you about your needs. To schedule an appointment or consultation, visit us online or give us a call at 410-747-1115. For more tips and tricks, follow us on Facebook, Flickr, Twitter, and YouTube.