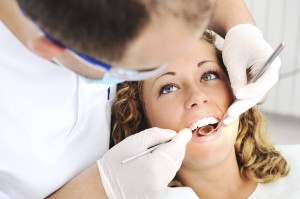 If you don't feel like there's anything wrong with your teeth, you probably aren't going to rush to make an appointment with your Catonsville dentist. That's no surprise, especially since most people aren't fans of going to the dentist in the first place. Did you know that you're less likely to have to visit your dentist for pain if you get routine cleanings instead of only going when something hurts? Scheduling regular teeth cleanings (about every 6 months) with your Catonsville dentist can help keep your mouth healthy – as well as offer quite a few other benefits.
Advantages of Routine Teeth Cleanings
Have a whiter smile – A whiter smile can lead to lots of things. Many people express that they have higher self-esteem when their teeth are at their whitest. Your smile is also one of the first things that people notice about you. If it's bright, white, and clean, people are going to take notice! This can be useful on dates and even for interviews.
Prevent oral cancer – While cleanings themselves do a lot to promote a healthy mouth, they can also help you avoid oral cancer or at the very least detect it early. Oral hygienists and dentists can detect oral cancer early on. It's much better to have regular teeth cleanings that help prevent late stage cancer than to find out when it's too late. To learn more about the signs of oral cancer, please visit this website.
Encourage better breath – Nobody wants to have bad breath. It can be an instant repellent. Did you know that poor oral hygiene is the cause of bad breath more times than not? Having your teeth and gums cleaned will help remove the bacteria that cause bad breath. Regular cleanings can ensure that your breath isn't offensive to those around you.
Maintain your health – We're not just talking about oral health, though that's very important. A regular cleaning will help promote overall health, as well. Almost everything that goes into your body enters through your mouth – think about that for a second. It's also good to keep in mind that poor gum health has recently been connected to problems such as heart attack and stroke.
Routine Cleanings from Doctors Leikin & Baylin
If it's been a while since you've had a cleaning, it's time to make an appointment. You can contact Leikin & Baylin Dental Care of Catonsville, Maryland by calling 410-747-1115 or visiting CatonsvilleDentalCare.com.
Source: Advanced Dental Care
Disclaimer: The writer of this article is not a medical professional. Information contained herein has been collected from sources believed to be reliable, and every precaution has been taken to ensure its accuracy. The information provided here is for general informational purposes only, and should not be used as a substitute for professional medical care.
Sources: