Going to the dentist is important at any age. It is important to have good oral hygiene for long lasting teeth. But there are so many different types of dentists – family dentist, pediatric dentist or a general dentist – how are you supposed to know which one to go to? Fortunately, this blog topic will discuss what a family dentist is and why you should visit one in Catonsville to take care of all of your dental needs.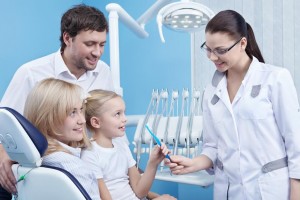 A family dentist will accept patients of all ages, that means your three year old with baby teeth, all the way to grandma who you're surprised still has teeth. Family dentists are one stop shopping for your family's oral care needs.
A family dentist will provide your regular dental cleaning services as well as root canals, teeth whitening and other services.
In short, a family dentist specializes in everyone in your family making it an easier dental trip. One doctor for the whole family.
It is important to visit your Catonsville family dentist every six months to make sure that everything is going smoothly.
For more oral health tips in Catonsville:
About Leikin & Baylin Dental Care in Catonsville
Leikin & Baylin Dental Care of Catonsville offers family dental services for your whole family.
If you have any questions about oral care or wish to schedule an appointment, please contact Leikin & Baylin Dental Care of Catonsville, Maryland by calling 410-747-1115 or visit CatonsvilleDentalCare.com.
"We are a team of caring health professionals who provide unparalleled dental excellence and treat our patients as members of our family."
You can also follow us on Facebook, Twitter, and Google+.
Source: