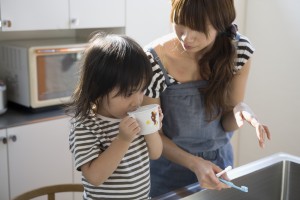 Last week we discussed some common mistakes people often make when flossing their teeth. Flossing is only half of the dental hygiene story. When it comes to keeping your teeth and gums healthy, you need a solid combination of tooth brushing and flossing technique. While many people think that they've got the art of tooth brushing down to a science, it is quite likely they are making a few mistakes. Your smile requires quite a bit of dental know-how. Make sure that you are following a few simple guidelines when you grab your toothbrush.
Buy the Right Brush
Where do you buy new toothbrushes? How much thought do you put into your decision? Did you know there are many types of toothbrushes? Most people just pick up the cheapest or prettiest toothbrush they can find, and go with it. Unfortunately, not all toothbrushes are created equally. According to dental professionals, the best type of tooth brush for any mouth is going to be a small or medium sized one. This ensures maximum control when brushing your teeth. The great toothbrush debate tends to revolve around electric toothbrushes. While studies do show that electric toothbrushes reign superior, a regular toothbrush will do the job just fine.
Choose the Right Bristles
For a toothbrush, the bristles make or break its success. Bristles come in different shapes, materials, and different levels of hardness. How do you choose? Dentists recommend toothbrushes with bristles that are soft or medium, made of nylon, rounded, and tufted. This type of bristle does the best job of clearing plaque off of your teeth, while ensuring that your gums and enamel are not damaged in the process.
Brush Smart
Once you've got the right tools, you need to make sure you've got the technique down. Everyone has their own way of brushing their teeth, but try not to fall into too much of a routine. You should make an effort to start brushing in a different spot each time. By the end of brushing, you're usually running low on paste and energy. The last teeth to get attention can get the short end of the stick. Try to brush your teeth at least twice a day, giving special attention to your evening brushing.
Leikin & Baylin Dental Care of Catonsville
If you have questions about dental health, or it's just been a while since you've had a cleaning or talked to your dentist, it's time to make an appointment. You can contact Leikin & Baylin Dental Care of Catonsville, Maryland by calling 410-747-1115 or visiting CatonsvilleDentalCare.com.
Disclaimer: The writer of this article is not a medical professional. Information contained herein has been collected from sources believed to be reliable, and every precaution has been taken to ensure its accuracy. The information provided here is for general informational purposes only, and should not be used as a substitute for professional medical care.