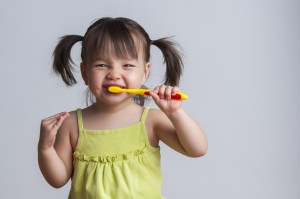 Your family dentist is around to help take care of your teeth. It's important to get preventive dentistry at least every 6 months; this usually involves a routine checkup and cleaning. However, your dentist can only do so much. The majority of the care of your mouth needs to be taken care of home. You should develop an oral health care routine that you can easily follow and make a point to perform every day. Everyone is a little bit different as far as their oral health care needs go, but there are some things that remain the same no matter what. The following list will give you some ideas for what your oral health care routine should look like.
Brush and floss – This is the old fallback for oral health care, but it can't be stressed enough. You should brush your teeth at least twice per day (though it helps to do it after every meal) and floss once per day. Just engaging in these two activities can help you keep your mouth healthy. One thing you should always make sure of, though, is that you're using a toothpaste with fluoride in it and a soft bristle toothbrush. These are the most gentle on your teeth, while still providing the clean that you need.
Eat healthy and well – The foods that cause cavities are the same ones that can cause heart disease and obesity. Carbohydrates and sugars will stick to your teeth and cause plaque buildup that can be hard to remove with just a toothbrush and toothpaste. Eating healthy foods, like fruits and vegetables can help with this. You should also limit snacking between meals and ideally brush after you eat.
Use an oral rinse – Regular mouthwash will usually do the trick, but you'll find that there are many oral rinses that include fluoride and whitening properties. These are some of the best to use for your teeth and will help you maintain both good breath and good oral hygiene. Bad breath can be caused from problems like sinus drainage, gum disease, (and the obvious) smelly food.
Taking care of your teeth at home is an important job. Your family dentist will be able to tell whether or not you've been following a good oral healthcare routine at home. If you haven't, it can cause complications such as cavities, tooth decay, and mouth pain.
About Leikin & Baylin Dental Care in Catonsville
Leikin & Baylin Dental Care of Catonsville, Maryland offers family dental services for your whole family. If you have any questions about oral hygiene or wish to schedule an appointment, please contact Leikin & Baylin Dental Care of Catonsville, Maryland by calling 410-747-1115 or visit CatonsvilleDentalCare.com.
"We are a team of caring health professionals who provide unparalleled dental excellence and treat our patients as members of our family."
You can also follow us on Facebook, Twitter, and Google+.
Source:  http://www.colgate.com/app/CP/US/EN/OC/Information/Articles/Oral-and-Dental-Health-Basics/Oral-Hygiene/Oral-Hygiene-Basics/article/What-is-Good-Oral-Hygiene.cvsp