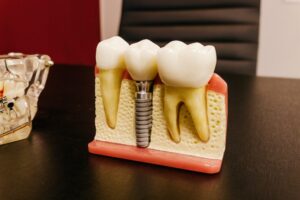 Dental implants serve as the perfect solution to keep your teeth healthy and ensure that they have a firm foundation. Many years ago, the only solution to replace missing teeth was removable dentures or bridges. While dentures alone are still a viable option, dental implants are groundbreaking. If you're a Columbia, MD resident who's curious to learn more about this procedure, you're in the best hands. Here are some valuable facts that you should know about dental plants.
Dental Implants Defined
Our dentists can embed titanium posts into the jawbone to replace the root of the tooth. Crowns support these posts. During your first consultation, one of our dentists will examine your oral cavity to gauge how many teeth are missing.
Dental Implants Have An Impressive Success Rate
On average, dental implants have a 95% success rate. Most patients are thrilled about their newly restored teeth. The success rate of dental implant procedures can vary depending on each patient's jawbone and gum health, but most are highly effective.
Your Teeth Will Look Natural
While a dental implant is, of course, not a natural tooth, that doesn't mean it will look unnatural. The dental prostheses will have a custom fit as well as looking and feeling like your natural teeth. Our dentists can fuse the custom restoration to the jawbone so that it will be difficult to distinguish it from other teeth.
Permanent Restorations Makes Life More Comfortable for Patients
We call this type of implant "groundbreaking" because patients can carry out functions of the mouth much better than with traditional dentures or partial dentures. You'll be able to get back to eating the food that you enjoy with ease.
Why Tooth Root Replacement Matters
When teeth are missing, it creates a void in the jawbone. A lot of restorative dentistry processes focus on restoring the outer enamel. However, dental implants focus on fixing the inner enamel or tooth root. Proper dental health is all about ensuring that all aspects of your gums, teeth, and enamel are at their best both aesthetically and health-wise.
Dental Implants Ensure Keep Your Neighboring Teeth Intact
This procedure maintains healthy teeth structures. Our dentists can affix dental crowns without disturbing any neighboring teeth and ensuring that they're functioning.
If you're a Columbia resident who's ready for a consultation, give Catonsville Dental Care a call today.
Oral Care from Catonsville Dental Care for Columbia, MD Residents
Whether you want to whiten your teeth, straighten your teeth, or have a wisdom tooth extracted, Catonsville Dental Care offers a wide variety of services when it comes to oral health. We have the experience and understanding to diagnose and treat any problem you have as quickly and painlessly as possible. With four dentists available at our office and a commitment to comfort, safety, and relaxation, you can't find a better provider for your health. We look forward to helping you keep your smile perfect all year long and talking with you about your needs. To schedule an appointment or consultation, visit us online or give us a call at 410-747-1115. For more tips and tricks, follow us on Facebook, Flickr, Twitter, and YouTube.