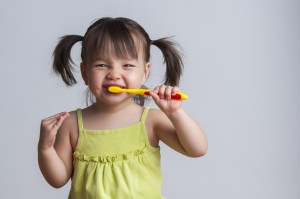 There are many decisions to be made once you have children in regards to their well-being. Among all of these decisions, choosing a dentist for your child is among the top in importance. You want your children to grow up having a happy and healthy smile, so starting annual trips to the dentist can't begin soon enough. Once your child has reached a year, you should start considering a dentist visit. You may think that a dentist doesn't need to specialize with children, that it's just their teeth. But taking your child to a dentist that has experience with pediatric dentistry can help you child's oral health for years to come.
When you take your child to your Catonsville Family Dentist, you can rest easy knowing that our dentists will make the experience pleasant and welcoming for your child. An adult dentist will be unaware of how a child might perceive the visit and scare your child. Fear of the dentist at a young age will stop your child from wanting to continue visits and their oral health might suffer from it. At Leikin and Baylin, we make sure to be aware of how a child will perceive us. We will choose our words carefully to make sure your child isn't scared or intimidated. Let us explain the details to your child, we will know phrases to use so that your child has an understanding of what is happening, but doesn't think they are in harm's way. We want your child to feel comfortable and know that going to the dentist is a good thing and not something that should be avoided. Dr. Baylin also specializes in magic tricks, so make sure your child asks to see them.
Going to the dentist doesn't have to be intimidating, so visit your Catonsville Family Dentist where children's dentistry is one of our specialties. To make an appointment for your child, call us at (410)-747-1115 today. If you have any questions about our procedures and services, fill out our contact form.
Follow us today on Facebook, Twitter, and Google+.