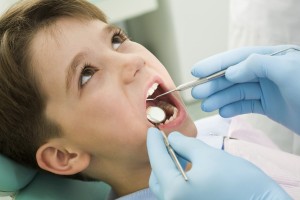 Did you know that you're supposed to see your dentist at least every 6 months for routine preventive maintenance on your teeth? If you have gum disease or other oral health issues, it may be important for you to see your dentist as often as every 3 months. These trips are all about preventive dentistry: cleanings, cavity checks, x-rays, and more can all be performed as preventive dentistry when you come into the office for a routine checkup. Every wondered more about preventive dentistry? We'll answer a few common questions involving the process this week!
Why do I need preventive dentistry? There are a couple of answers to this question. First, regular cleanings and checkups will help prevent the plaque buildup that can cause cavities and other health issues. Second, for children, lack of preventive dental care can cause problems with growth and development. Seeing your dentist once every 6 months or so should help with this.
What does preventive dentistry include? While regular cleanings and visit to the dentist are a main source of preventive dentistry, a lot of preventive dentistry happens at home. You should brush at least twice a day and floss once a day. It's also recommended to swish with a mouthwash that helps prevent cavities and has fluoride. For children, you should start brushing their teeth and having them see a dentist shortly after their first teeth come in.
What are the benefits of preventive dentistry? You may not know this, but the health of your mouth and your teeth can affect your entire well-being. The plaque that sticks to your teeth is the same plaque that can stick to the walls of your arteries and cause blockages that can lead to heart attack or stroke. Practicing preventive dentistry can help prevent plaque from getting to these parts of your body. Preventive dentistry also promotes a white, healthy smile that can help you with confidence and self-esteem. A healthy mouth can do a lot for you!
In order to keep your mouth healthy, you can also eat foods that are low in carbohydrates (which cause the plaque that sticks to your teeth), brush after every meal, and make sure you have fluoride in your water. Home care and in office care are both important. You shouldn't neglect either, starting from childhood and carrying right on into older age.
About Leikin & Baylin Dental Care in Catonsville
Leikin & Baylin Dental Care of Catonsville, Maryland offers family dental services for your whole family. If you have any questions about Catonsville preventive dentistry, or wish to schedule an appointment, please contact Leikin & Baylin Dental Care of Catonsville, Maryland by calling 410-747-1115 or visit CatonsvilleDentalCare.com.
"We are a team of caring health professionals who provide unparalleled dental excellence and treat our patients as members of our family."
You can also follow us on Facebook, Twitter, and Google+.
Source: http://www.healthline.com/health/preventative-dentistry#Overview